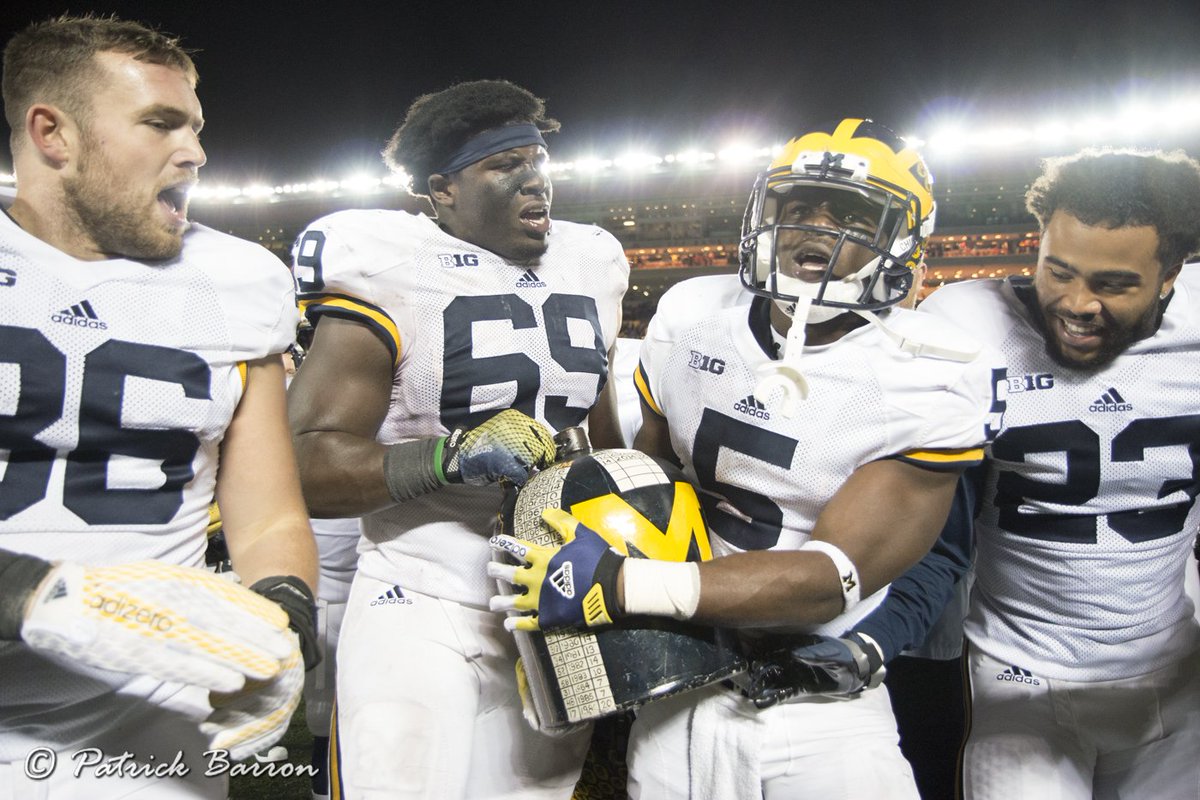 "Where is the Jug?"
"We have top men working on it. right now. Top. Men."
(Photo credit: Patrick Barron)
I spent a lot of time helping set up my church's VBS this summer. The theme was the 12 Apostles and I was reminded of my affinity for Thaddeus, who is also known as Jude. In Catholic tradition, St. Jude is the patron saint of desperate cases and lost causes, in part because his intercession was rarely invoked due to the similarity of his name to that of Judas Iscariot, that he basically was so happy that when anyone called upon him, he was eager to please. I'm not totally sure that's how that works, but you know, I really can't argue with Catholic tradition.
Church, like football, is not for happiness. It's for mercilessly defeating your enemies, whether that's Satan, Lutherans, or Cover-2.

— Jane Coaston (@cjane87) October 30, 2015
After some early jitters, it looked like Michigan was going to cruise. When they went up 14-3, it felt as if Minnesota was running on emotion and adrenaline and if Michigan could weather the storm of the first quarter, they'd be OK. But then, in a weird Halloween fashion, Minnesota caught a series of breaks that had to be seen to be believed, encapsulated in a ball late in the first half where it went through Dymonte Thomas hands and right in to those of a Gopher receiver. The Gophers kicked a late first half field goal and went into the locker room with a two point lead. The teams traded touchdowns in the third quarter, Michigan looking very sharp on the opening drive of the half, then returning to a posture of flailing and "Hoke Year 5". Then Jake Rudock went down awkwardly after a rushing attempt and much seemed lost, ennui began to make itself at home once again in the collective souls of the Michigan fanbase. But Wilton Speight finally settled in, hit a couple of nice passes, moved the ball down the field relatively effectively, and after a moment where it looked like Jabrill Peppers was going to try and throw for a touchdown, because why not, Speight hit Jehu Chesson from 12 yards out, then hit Amara Darboh for a two point conversion when things looked really lost, and just like that, Michigan was up three with just under five minutes left to play.

The longer you watch college football, the more that you come to realize that even familiar tropes and scenarios can have surprise endings. On Minnesota's final drive, Michigan couldn't get off the field on third and long in the shadow of the Gopher end zone, well, you start wondering what form the destroyer is to take, because God doesn't forgive poor tackling or coverage too readily. When the "go for broke" pass beats your coverage, you're shocked when the replay review actually correctly showed the receiver down at the half yard line and the officials got it right. When the Gophers wasted 90 percent off their remaining clock on the restart for reasons that were not immediately and readily apparent, "narrative" dictated that the team playing for their beloved, recently retired coach would still be rewarded for playing to win. But narrative still must give way to physics, and the fundamental theorem of football physics says "low man wins." Michigan correctly presumed a QB sneak, sold out like Roger Daltrey hawking Heinz baked beans on it, and in doing so, brought the Little Brown Jug home for the next three years. What felt like a lost cause just five minutes of real time early was suddenly found, saintly intercession or not.

Wilton Speight becomes the unlikely hero. Though spouting the cliches of next man up and constant preparation, as he should, few of the Michigan faithful were going to be looking to Speight, who was 0-for-2015 coming into the game yesterday, to lead Michigan to victory. Their eyes were fixed on Jabrill Peppers, who was working in mysterious ways in all three phases, but Speight, eager to prove himself, becomes the patron of this seemingly lost cause. Michigan gets one that maybe they shouldn't have on the heels of losing one they all but had. Michigan's bowl eligible, coming home to play Rutgers, and looking ahead to the next challenge. Yesterday went a long way to exorcise some of the specific demons of 2014, and little by little, you start to think that, maybe, maybe, the Game might be a dogfight. We'll see.